Bitwarden password vaults targeted in Google ads phishing attack
Bitwarden and other password managers are being targeted in Google ads phishing campaigns to steal users' password vault credentials.
As the enterprise and consumers move to use unique passwords at every site, it has become essential to use password managers to keep track of all the passwords.
However, unless you use a local password manager, like KeePass, most password managers are cloud-based, allowing users to access their passwords through websites and mobile apps.
These passwords are stored in the cloud in "password vaults" that keep the data in an encrypted format, usually encrypted using users' master passwords.
Recent security breaches at LastPass and credential stuffing attacks at Norton have illustrated that a master password is a weak point for a password vault.
For this reason, threat actors have been spotted creating phishing pages that target your password vault's login credentials, potentially authentication cookies, as once they gain access to these, they have full access to your vault.
With password vaults containing some of your most valuable online data, it is important to properly protect them.
When it comes to protecting your password vaults from phishing attacks, the first line of defense is always to confirm you're entering your credentials on the correct website.
However, in case you mistakenly enter your credentials on a phishing site, you should always configure multi-factor authentication with your password manager.
The best MFA verification methods to use when securing your account, from best to worst, are hardware security keys (best but most cumbersome), an authentication app (good and easier to use), and SMS verification (can be hijacked in sim swapping attacks).
Unfortunately, even with MFA protection, your accounts can still be vulnerable to advanced adversary-in-the-middle (AiTM) phishing attacks.
AiTM phishing attacks are when threat actors utilize specialized toolkits like Evilginx2, Modlishka, and Muraena to create phishing landing pages that proxy to legitimate login forms at a targeted service.
Using this method, visitors to the phishing page will see a legitimate service's login form, such as Microsoft 365. When they enter their credentials and MFA verification codes, this information is also relayed to the actual site.
However, once a user logs in and the legitimate site sends the MFA-backed session cookie, the phishing toolkit can steal these tokens for later use.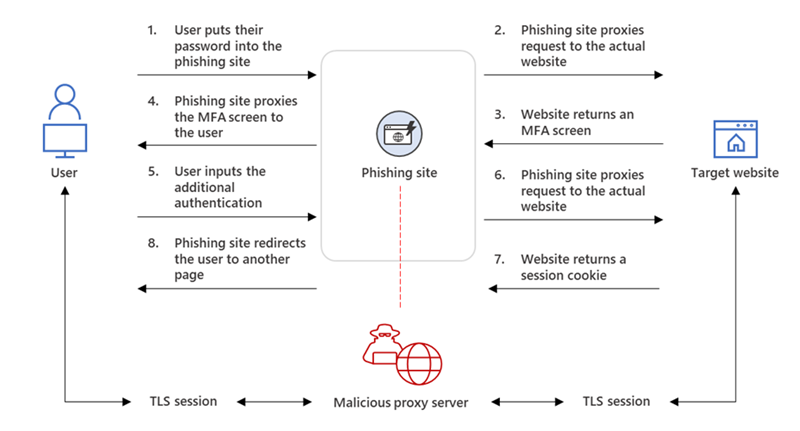 With thanks to the Cyber Defence Alliance and Bleeping Computer. The full story is here: https://www.bleepingcomputer.com/news/security/bitwarden-password-vaults-targeted-in-google-ads-phishing-attack/
---
Free Phishing Security Test
Would your users fall for convincing phishing attacks? Take the first step now and find out before bad actors do. Plus, see how you stack up against your peers with phishing Industry Benchmarks. The Phish-prone percentage is usually higher than you expect and is great ammo to get budget.
Here's how it works:
Immediately start your test for up to 100 users (no need to talk to anyone)
Select from 20+ languages and customize the phishing test template based on your environment
Choose the landing page your users see after they click
Show users which red flags they missed, or a 404 page
Get a PDF emailed to you in 24 hours with your Phish-prone % and charts to share with management
See how your organization compares to others in your industry
PS: Don't like to click on redirected buttons? Cut & Paste this link in your browser: https://info.knowbe4.com/phishing-security-test-partner?partnerid=001a000001lWEoJAAW