Fake security advisory used in clever cPanel phishing attack
A clever phishing scam is targeting cPanel users with a fake security advisory alerting them of critical vulnerabilities in their web hosting management panel.
cPanel is administrative software commonly installed on shared web hosting services that allow website owners to easily administer their site through a graphical user interface.
Starting on Wednesday, cPanel and WebHost Manager (WHM) users began reporting a targeted phishing email campaign with an email subject of "cPanel Urgent Update Request" that was pretending to be a security advisory from the company.
This fake advisory stated that updates had been released to fix "security concerns" in cPanel and WHM software versions 88.0.3+, 86.0.21+, and 78.0.49+, and recommends all users install the updates.
Unlike many phishing scams seen by BleepingComputer, the attackers in this campaign took time and effort to construct a convincing attack.
In addition to a well-worded email with little or no grammar and spelling issues, the threat actors used language commonly found in security advisories.
The attackers registered the domain 'cpanel7831.com' to make the scam appear as an authentic advisory from cPanel and are using Amazon Simple Email Service (SES) to send out the emails.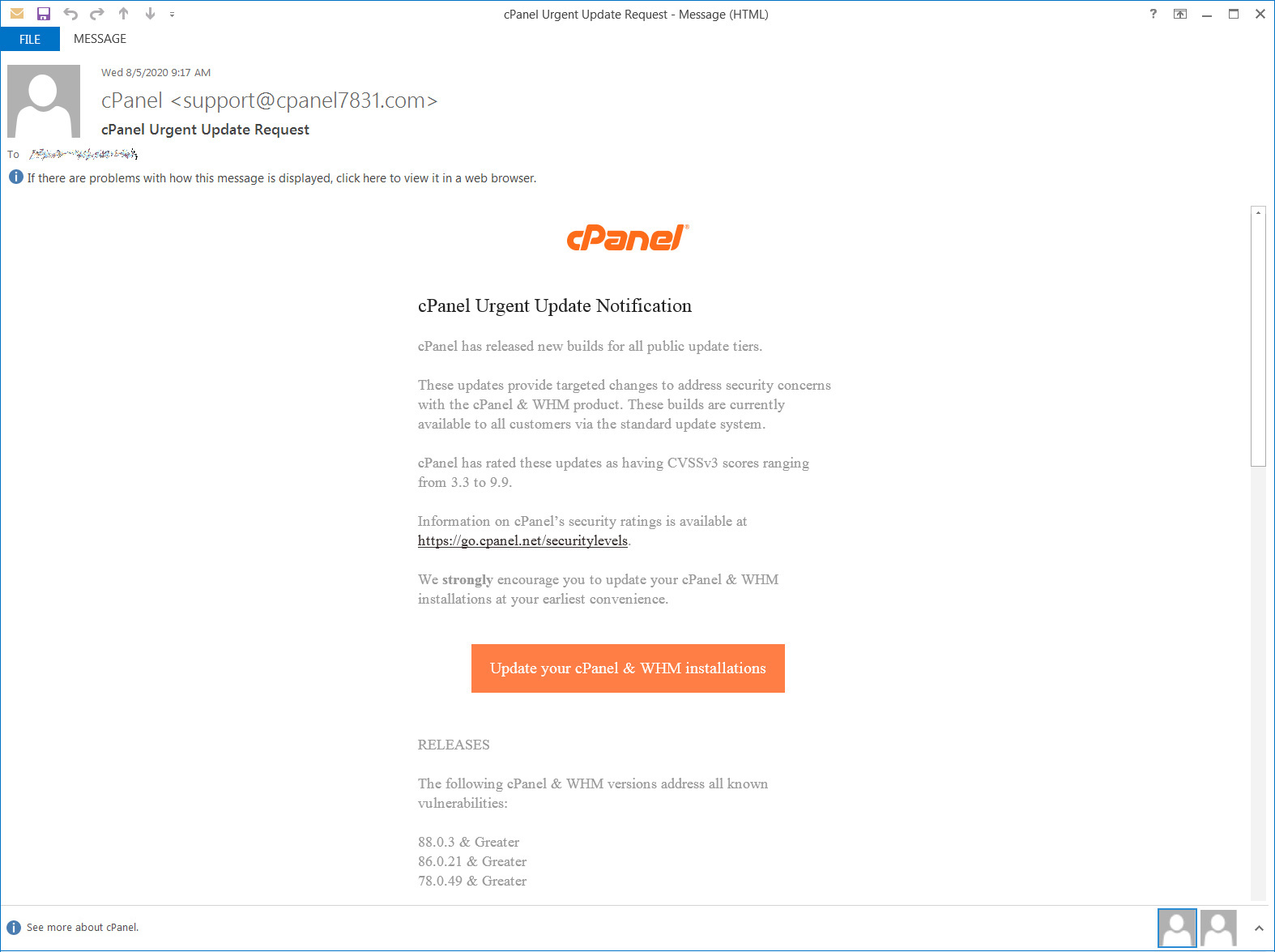 If a recipient of this phishing email falls for the scam and clicks on the 'Update your cPanel & WHM installations', they were brought to a website that prompted a user to log in with their cPanel credentials.
If you received a similar email recently and entered your login credentials at the site, it is strongly suggested that you immediately log in to your web hosting provider and change the password on your account.
Creating a phishing scam is easy. And so is creating a victim. Security Awareness Training is an organization's best means to elevate defences, and reduce the risk of email-based scams succeeding.
With thanks to the Cyber Defence Alliance and BleepingComputer. The full story is here: https://www.bleepingcomputer.com/news/security/fake-security-advisory-used-in-clever-cpanel-phishing-attack/
Free Phishing Security Test
Would your users fall for convincing phishing attacks? Take the first step now and find out before the bad guys do. Plus, see how you stack up against your peers with phishing Industry Benchmarks. The Phish-prone percentage is usually higher than you expect and is great ammo to get budget.
Here's how it works:
Immediately start your test for up to 100 users (no need to talk to anyone)
Select from 20+ languages and customize the phishing test template based on your environment
Choose the landing page your users see after they click
Show users which red flags they missed, or a 404 page
Get a PDF emailed to you in 24 hours with your Phish-prone % and charts to share with management
See how your organization compares to others in your industry
PS: Don't like to click on redirected buttons? Cut & Paste this link in your browser: https://info.knowbe4.com/phishing-security-test-partner?partnerid=001a000001lWEoJAAW