Find out which users in your organisation are putting you at risk
How weak are your users' passwords?
Are your user's passwords…P@ssw0rd? Cyber criminals are constantly coming out with new ways to hack your network while evading detection.
Employees are the weakest link in network security, using weak passwords and falling for phishing and social engineering attacks.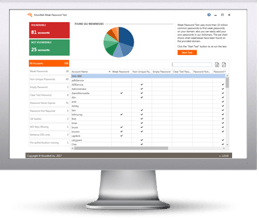 Verizon's recent Data Breach Report showed that 81% of hacking-related breaches used either stolen and/or weak passwords.
KnowBe4's complimentary Weak Password Test (WPT) checks your Active Directory for several different types of weak password related threats.
WPT gives you a quick look at the effectiveness of your password policies and any fails so that you can take action. This tests against 10 types of weak password related threats for example; Weak, Duplicate, Empty, Never Expires, plus 6 more.
Here's how the Weak Password Test works:
This will take you 5 minutes and may give you some insights you never expected!
Requirements: Active Directory, Windows 7 or higher (32 or 64bit)